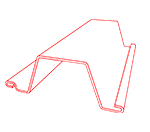 JIS Type Sheet piles have been commonly used in Asia and represents the main stay of the sheet pile market. Its 400mm width is easily driven by excavator vibratory hammers and provides good resale value for temporary usage.
MHU Sheet Piles or also known as JIS Type hot rolled sheet piles are the most common types of sheet piles available in the market. They were designed according to Japanese Industrial Standard (JIS) and have been implemented in the Southeast Asian market for decades. Its narrow U shape of 400mm allows for most piling equipment in Asia to be easily adapted and to drive the piles. However, its narrow width also reduces its efficiency in piling speed and its strength to weight ratios.
The wider 500mm and 600mm series comprises of 5L and 6L, 2W, 3W and 4W, provides greater efficiency than its 400mm series. However, they are seldom implemented due to higher cost in production and long lead times.
Piles are produced to JIS 5528, JIS 5523 and EN10248 standards. Common grade in most of Southeast Asia is SY295 (JIS 5528). In Singapore and other countries conforming to Eurocode, they would follow SYW295 or SYW 390 for JIS 5523 standard which declares the carbon content and carbon equivalent measurements. S270GP and S355GP will conform to EN 10248 standards for Hot Rolled Steel Sheet Piles.
Mlion stocks MHU Sheet Piles from various countries such as China, Japan and Thailand.
PRODUCT INFORMATION SHEET
Section
Width
a
mm
Height
h
mm
Thickness
Flange/Web
mm
Section
Area
cm2/m
Weight
kg/m
Weight
kg/m2
Moment of
Inertia
cm4/m
Section Modulus
cm3/m
IIW
600
130
10.3
78.7
61.8
103
13000
1000
IIIW
600
180
13.4
103.9
81.6
136
32400
1800
IVW
600
210
18
135.3
106
177
56700
2700
II
400
100
10.5
61.18
48
120
8740
874
III
400
125
13
76.42
60
150
16800
1340
IIIA
400
150
13.1
74.4
58.4
146
22800
1520
IV
400
170
15.5
96.99
76.1
190
38600
2270
VL
500
200
24.3
133.8
105
210
63000
3150
VIL
500
225
27.6
153
120
240
86000
3820